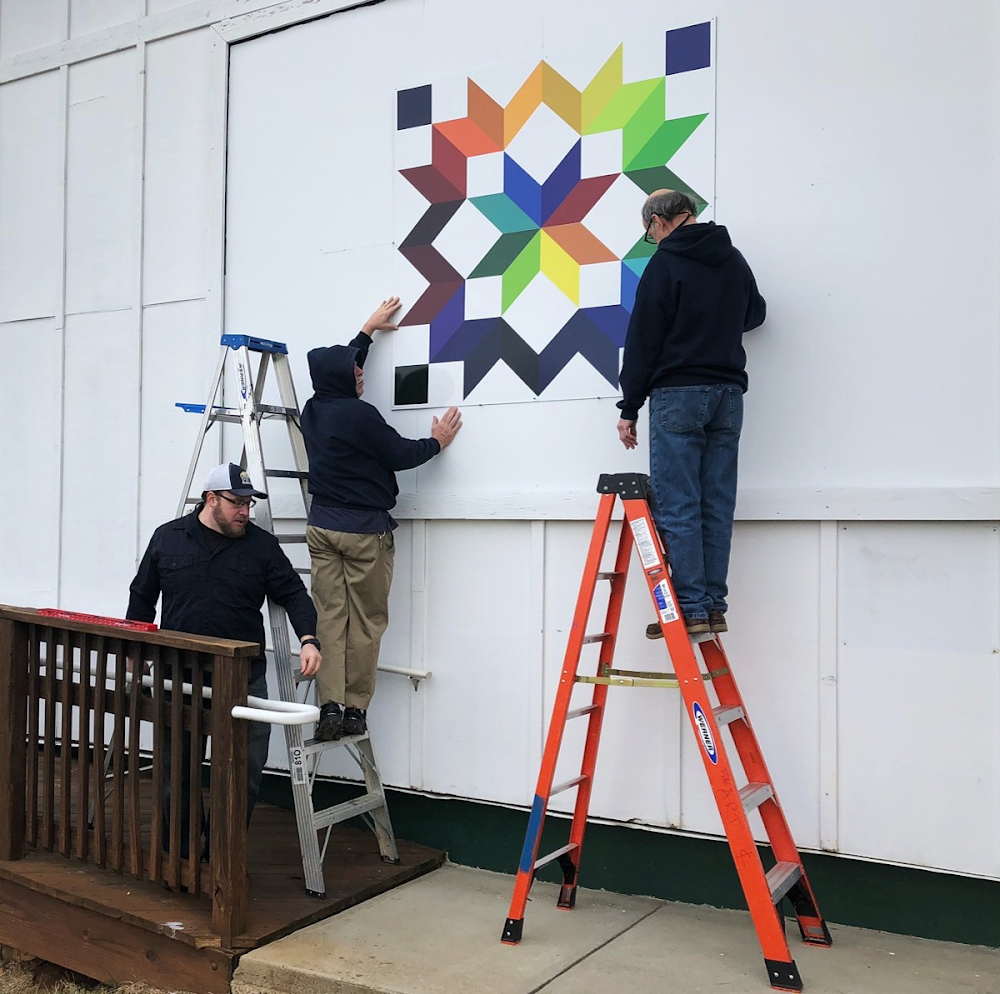 Installing the Carpenter's Wheel Quilt Square at Franklin Park Arts Center,
First, a couple of questions for you:
Loudoun Barn Quilt signs are intended to highlight the county's agricultural history and culture. Do you have a barn, farm structure, winery/tasting room, or similar structure where you can hang a barn quilt?

Keep in mind that the visitors will want to see your barn quilt sign. To view it, people need to be able to see your barn quilt clearly from the road or a nearby parking spot. (Viewers are encouraged to take and post photos of the signs and selfies with the signs in them.) Do you have a place to hang your barn quilt where it can easily be seen by visitors?
If you can answer "yes!" to these two questions, we will help you get a Barn Quilt!
Second, decide on sign details:
Determine the size and shape of your barn quilt:
Recommended size: 4' or 5' square

If you want a larger sign, contact the Loudoun Arts Council

If you want to hang your barn quilt diagonally, or "on point," be sure you have enough space on the wall for the extra length needed
Determine the cost:
Sign Design in Purcellville paints the Loudoun Barn Quilt signs with durable oil-based exterior enamel paints on either lightweight aluminum or wood with an added clear coat to withstand years of weather. The size and material of the sign determines the cost:
4' x 4' Dibond = $445

4' x 4' Wood = $450

5' x 5' Dibond = $500

5' x 5' Wood = $500
Mounting plan for your barn quilt:
The cost will depend on the method you choose

You may install the signs yourselves

If you need help, ask a handyman who has a friend, two ladders, a drill, and a screwdriver

Or contact:

Signarama, (703) 669-333

Signs by Clay Downing, (703) 371-6828
Third, choose your block pattern:
There are several sources for choosing a pattern:

Go to the Loudoun Barn Quilts website and click on JOIN to view our gallery of quilt patterns.

Find a traditional pattern that has meaning for your family, barn, or property history (simple patterns without a lot of detail and in high contrast colors are easiest to see)

Email Loudoun Barn Quilts if you need help selecting a pattern-we'll be glad to help!

Email Loudoun Barn Quilts at: info@loudounbarnquilts.org

Let us know the pattern you have chosen

If there's a special reason you chose that one, tell us why

And tell us a little about your barn, farm building, agricultural structure, or business:
When was it built?

What is its history?

What happens there today?

What makes it an important part of rural Loudoun?
Last, get your Barn Quilt fabricated and installed:
When we receive your email:
LAC will send your pattern, size, and any other specifications to Sign Design

LAC will discuss the plan for mounting your quilt sign with you

Pay the Loudoun Arts Council for your quilt sign:

Use PayPal: [add link to PP button]

Or mail a check to: LAC, PO Box 4270, Leesburg, VA 20177
Install your barn quilt sign on your building:
LAC will advise you when your sign is ready for pickup from Sign Design
LAC will update the Loudoun Barn Quilt website with an image of your barn quilt, its location, history, and significance
Congratulations! You're all done and listed on the Loudoun Barn Quilts website!